One of the questions we get the most is: "How is B2B ecommerce different than B2C ecommerce?"
The answer: They're not that different.*
*in theory. Practice, however…
If you're new to the B2B space, you're likely researching the business to business market as well as what functionalities your competitors are using on their ecommerce sites to reel in buyers.
If you're a veteran, you may be wondering what you can do to stand out from the crowd by taking insights from the business to consumer realm.
In this post, we'll talk about the similarities and disparities with B2B vs B2C ecommerce websites to achieve the best website optimization possible. First up – let's get the basic definitions down.
B2B – BUSINESS TO BUSINESS
B2B ecommerce is the practice of using a website to sell products or services to business customers.
B2C – BUSINESS TO CONSUMER
B2C ecommerce is the practice of selling products or services directly to individual customers and end consumers.
---
The significant difference is target audience for your sales. That plays a key role in everything else we have to say below.
A Brief Look at Similarities
Before we go further, let's acknowledge the vast number of ways that B2B and B2C ecommerce align:
Silos and site structure – Best practice is to group offerings into distinct categories or "silos" for simple navigation.
Platform options – Shopify, BigCommerce, Magento, Shopware, the list goes on. Ecommerce platforms are abundant and mostly flexible, although we believe that open source syncs better with B2B.
User Friendly – If the target audience can't navigate the site or understand the product, it doesn't matter how good your ads are. They won't buy.
Mobile-First – More than half of today's web traffic is via mobile devices. If you don't think your audience is scrolling your site on their phones, think again!
The long and short of it is that many of the needs of B2B customers are similar to those in the B2C market. In a limited sense, building a B2C website with B2B products can be successful.
That said, you'll quickly run into limitations with that mindset, which is why we want to spend the rest of this post explaining key differences and how you can adjust when selling to other businesses. These concepts can be stacked together or cherry-picked, so take what you need.
B2B vs B2C Ecommerce – Understanding Key Differences
B2B and B2C eCommerce have similarities as well as differences that you would not expect, and when building out your ecommerce site for B2B, it's important to be aware of both.
#1: Marketshare
The B2B world and the world of ecommerce are blending together at an exponential rate, and the union of the two is only expected to grow.
That said, the B2B market is currently double the B2C market.
By 2026, experts predict B2B ecommerce will total more than $18.5 trillion.
Because of this, many online merchants are finding it important to begin including B2B features and functionalities to their ecommerce website – according to McKinsey.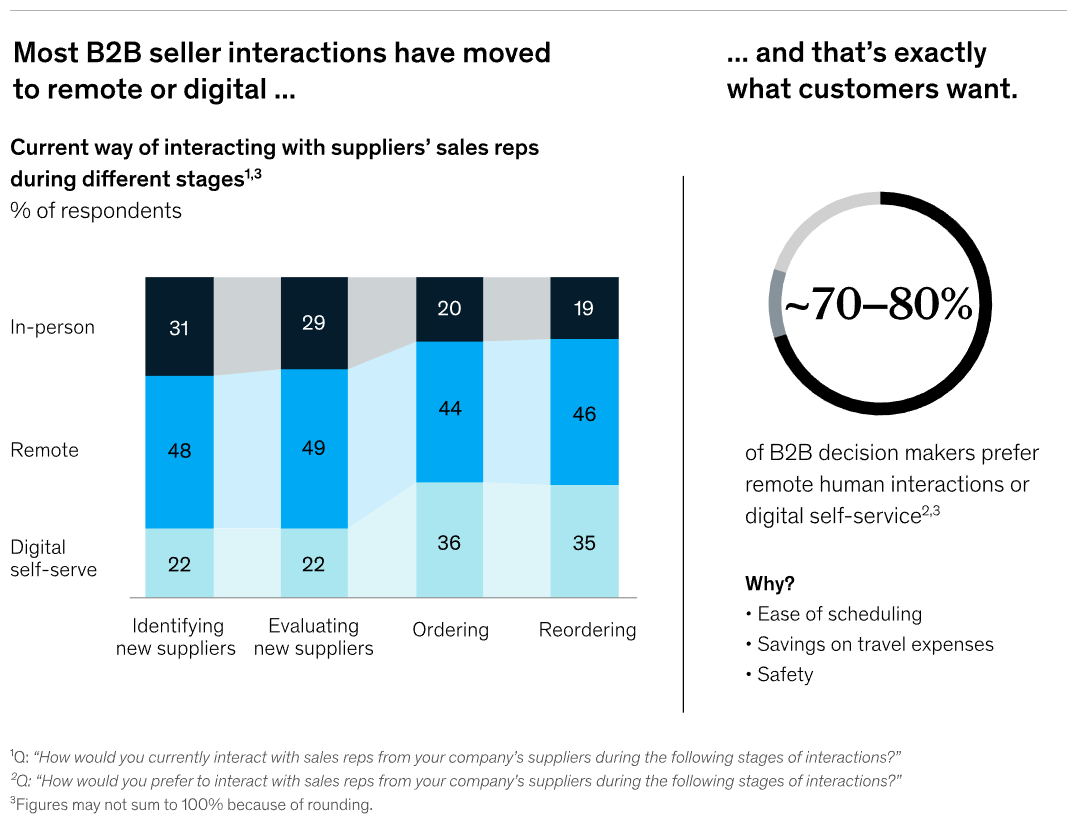 With the massive rise in B2B consumers flooding to find an ecommerce platform, competitors in most industries have no choice but to accommodate this shift and try to keep up.
B2B eCommerce websites can (and should) be designed with the B2C end consumer in mind. You can implement functionalities and features to satisfy a consumer who purchases goods for themselves rather than their business – while still selling at higher value levels.
#2: High Value Purchases (Scale)
No shame to the shopaholics, but most B2C buyers aren't making repetitive, high value purchases via an online retailer. Rather, B2C ecommerce focuses on high-volume, low-value transactions that ship directly to the individual consumers.
It's the exact opposite business model for B2B ecommerce: low-volume, high-value. There are likely some exceptions, but not many. You may only make one or two sales a month, and those deals are likely worth thousands apiece. Maybe even millions.
However, B2B sellers have some more complex factors to consider such as complicated contracts and payment methods.
This is not a sale you want to lose, as B2B merchants often stand to gain significantly more from an individual sale than many B2C merchants.
So – how do you account for the difference in scale with ecommerce sales? That brings up the second key difference in the B2B ecommerce model: sales process.
#3: Sales Process & Features
Merchants everywhere are increasingly adopting the best and most advanced technology to revamp their entire business.
The days when a B2B buyer would have to call a company's sales rep to get a quote for a large order are long gone, and tasks such as these often require specific functionality within an ecommerce site. Some B2B buyers also require the ability to enable or disable access to quote requests, or set purchase amount caps for certain team members.
For example, B2B merchants like Grainger, Fisher Scientific, Pasternack, and Haas Automation have completely changed the game for their competition by leveraging technology to drive B2C- like experience in B2B ecommerce.
What sorts of features are they using? To name a few:
Quick order possibility via online sales portal
Requisition lists
Quotation tools
User identification
Personalized offerings and content
Dynamic product pages
Multiple accounts for one company
Customer structure and user roles (including account management for admins)
Multiple payment options
Credit limits
Varying order processes for specific market segments
Punch out
Drop ship
Back order tracking
Internal system syncing
Customer service
Tools for resellers and online retailers
You should get onto an ecommerce platform which has robust B2B capabilities to ensure that your buyers have the best user experience possible. Assuming that other businesses are still operating with a legacy ecommerce platform can be a huge mistake.
A Quick Word on Pricing Info:
One important thing that B2B buyers value is the option to view wholesale pricing quotes directly online.
Where there used to be a "call for pricing information" notation on many websites, customers have now grown accustomed to instant access to information, and the thought of calling a representative to talk price is off-putting.
If a request for quote function doesn't come native on your eCommerce platform, there is always the option to implement a module which can provide you with this function. It's highly recommended as the gap between the B2B and B2C experience shrinks.
Conclusion
B2B and B2C selling differ greatly, but not without a lot of overlap and shared insights.
Hopefully the information in this post gives you a clearer picture of how these selling practices provide value in their own ways. It should also drive home just how important ecommerce platforms are when deciding how to approach online sales.
If you're interested in asking any questions about what your buyers prefer, get in touch!