B2B sales has changed.
It's not just throwing leads to the sales team and closing deals anymore.
Modern B2B sales is sophisticated, tech-reliant, and customer-driven. If you're not finding ways to improve, there's a good chance your customers will look elsewhere.
This post is designed to help you prevent that. Let's dive in.
What B2B Sales and Marketing Teams Need To Know
The key to gaining customer loyalty is building a relationship based on trust.
Your client wants to trust that they will be getting the products they were promised in the amount of time that was agreed upon. If you continue to provide reliability to your clients, they will trust you with their business needs.
Modern buyers are changing the way business to business (B2B) sales happen. Traditional approaches to B2B sales are getting less engagement than ever – and even some of the modern alternatives aren't as good as you may think.
Here's what the data says.
B2B buyers – especially in tech – are very unlikely to engage with cold call efforts, generalized messages, AI-assistants, and targeted ads. It's a complete paradigm shift.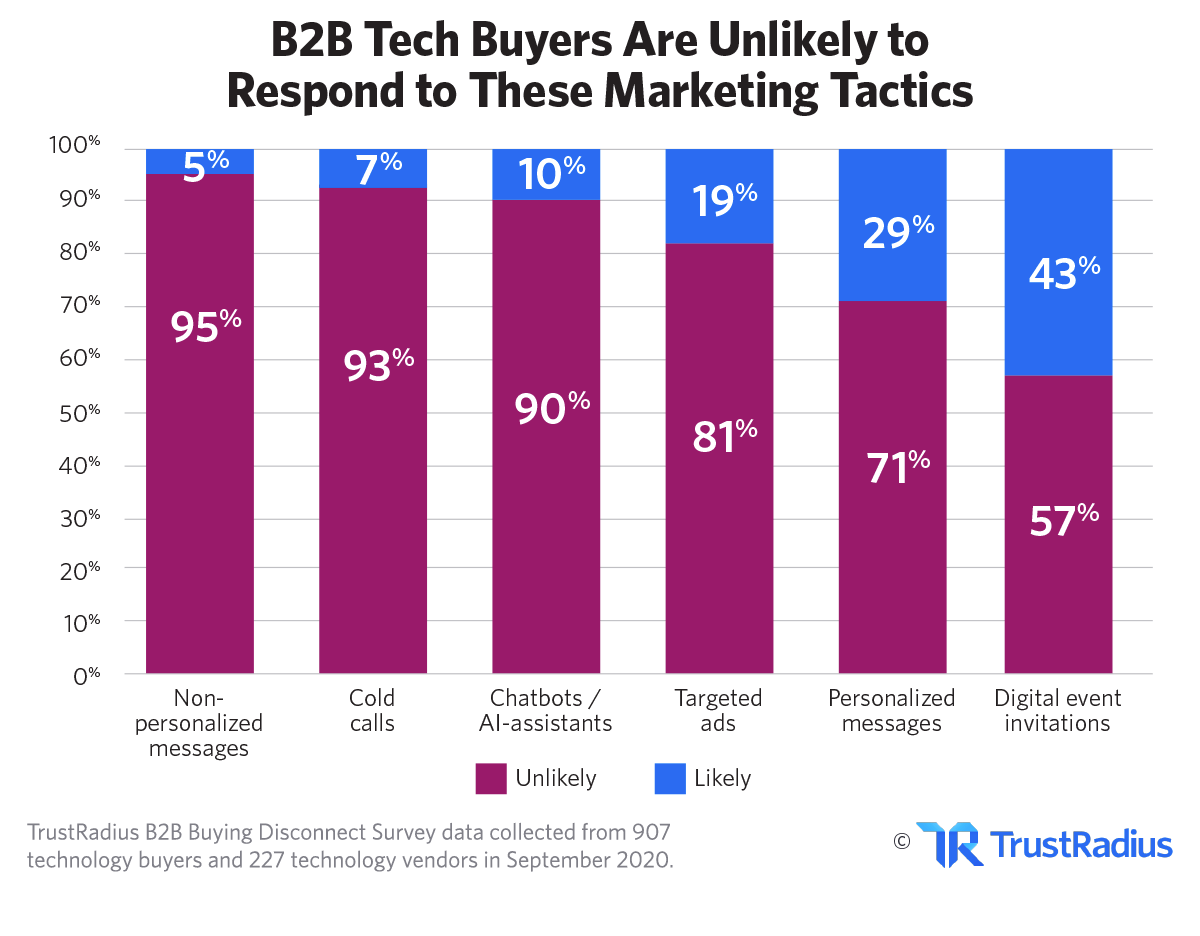 To make matters more complicated, companies are consistently reporting longer sales cycles when approaching new customers.
74.6% of respondents in one study reported sales cycles for new customers required more than 4 months to close – with 31.2% sharing that it took more than a year.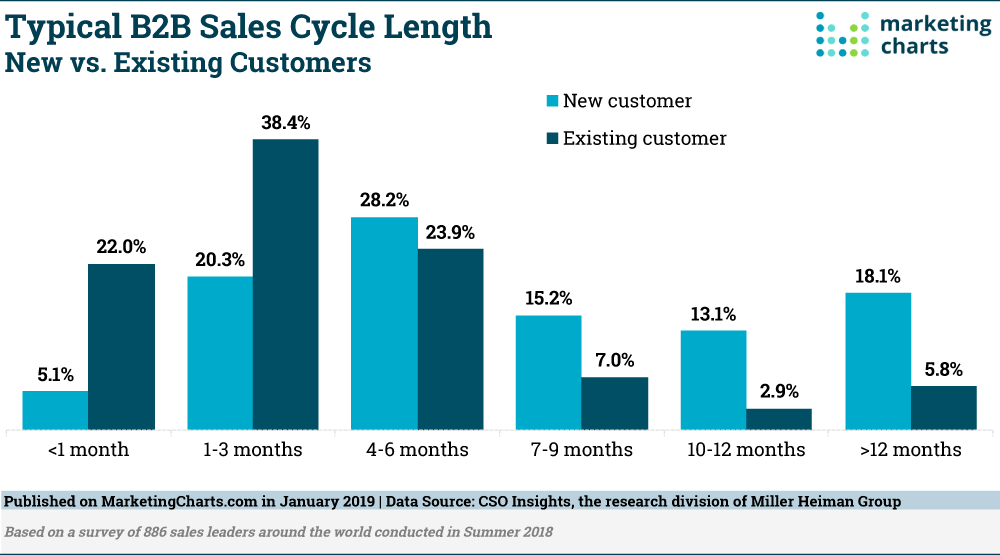 Even existing customers can take months to decide to continue doing business with you.
The problem is clear: the modern sales cycle is long, and buyers aren't responding to the classic methods used to generate business deals.
What's a sales team to do? Build loyalty with effective ecommerce design.
6 B2B Sales Strategies That Aid Customer Loyalty
Building loyalty is lucrative in two directions.
When it comes to marketing budget and messaging efforts, studies have shown that it costs 5x less to retain a customer than to win a new one. The savings speak for themselves.
And for your long-term sales strategies, loyalty building yields some of the best information on how to meet a customer's needs and quickly close future deals.
The key for B2B sales is to embrace sales enablement. Your sales team needs to be able to hone in on your target audience, communicate respectfully with prospective customers, and find ways to generate more qualified leads with an effective marketing strategy.
Easier said than done, right?
To help you navigate today's market and speak effectively with the right decision makers, we've put together 6 sales strategies that prioritize the prospective buyer and their needs. Hopefully you'll find the advice you need to empower your own B2B sales.
#1: Make Your Content Your Sales Pitch
In the past, most companies hoarded secrets. They feared that if other businesses knew how they approached their target market, they'd have no competitive edge.
How wrong we all were.
Customer acquisition these days is all about getting out of the way until your potential customers are ready for you. If that sentiment gives you pause – say with me. To do this effectively takes a whole lot of work.
Let's cycle back to the extended length of the B2B sales process. What do you think buyers are doing during that time period?
The research says:
They're spending time discovering their needs

They're online researching market solutions

They're researching the reputations and track records of competing brands

They're taking deep-dives into the content and research shared by these brands

They're talking with sales reps to see how the online brand meets reality
With the growing complexity of many industries, no wonder it takes so long!
Here's where things get interesting for you though. Customers who have access to well-crafted, reliable information are more likely to feel at ease and feel less regret over buying.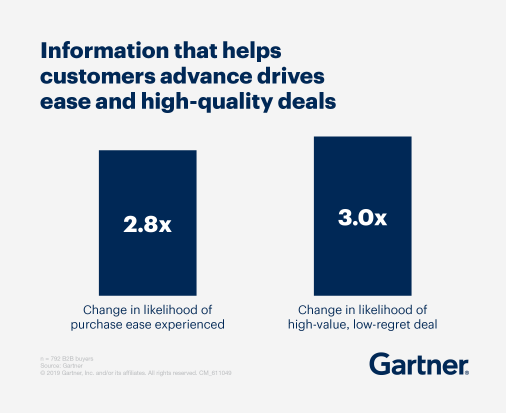 Content is where you really start selling.
You can be the best out there, but if the information in your head isn't properly presented to buyers, they will never perceive the benefit.
Teach your audience everything you know about how they can utilize your offerings to better and grow their business. You can offer help or advice to help them manage their business through industry tips, insights from books, helpful blogs, or online courses.
There are dozens of tools on the market that empower you to conduct research, identify pain points, and build the ideal buyer personas for your business. You should also make an effort to remain aware of new trends in the B2B market and research what other successful companies are doing.
Once you have this info, creating content based on your industry expertise follows naturally.
And last but not least – don't push too soon (or too late) on your sales opportunities.
Pushing customers into purchasing your products before they're ready is that while maximizing your number of customers is great, there are such things as bad customers. Pushing clients into buying when you aren't a good fit for them sometimes leads to bad reviews and tarnishing of your company's reputation.
Speaking of reputation, let's talk about how your online reputation is a strategy all on its own.
#2: Prioritize Customer Feedback and Reviews In Your Sales Process
We've already talked about how retention is lucrative, but did you know that repeat sales isn't the only way your existing customers can help you? They can play a role in boosting your online reputation through social selling.
87% of B2B buyers say they lean heavily on social proof when assessing a purchase.
This makes sense – a potential buyer will be curious to know how your product has benefited companies in the relevant industry.
The best way for you to ensure that happens is to ask your long term relationships to leave positive reviews. If you've built a great customer experience and follow through with a stellar product or service, it's easy for customers to recommend your company.
How do you make that happen?
Step 1: Do as mentioned above – align sales with content built for modern buyers that boosts customer engagement over time.

Step 2: Improve your brand's sales experience – which we cover later in this post.

Step 3: Follow through with a high-quality product or service.

Step 4: Incentivize your sales reps to earn quality reviews
Keyword on step 4 is sales reps. DO NOT use incentives to earn reviews from clients or customers – such practices are against most platforms' TOS and can end up hurting you in the long run.
#3: Stay Relationship-Oriented
Even though it's important that you present your products in the best light possible, it's important to remember that B2B sales strategy is more customer-focused than product-focused.
There's always another B2B merchant with a similar value proposition who is just as available to the buyer as you are. You need to develop a tactic to set yourself apart from the competition.
Companies are more likely to buy from companies that they trust. Stronger relationships are born when you show customers you want to help them succeed.
Let it be clear that their success is your success and that having them as a consumer will be beneficial to all involved.
Just like you want a person who is patient, empathetic, and understanding of your needs when you meet someone in life- the same goes for business. You are building a relationship and level of trust that will help you to keep this person as a loyal customer.
Sales reps in particular should be fully capable of answering any questions your new customers may have. They should be well- versed in the features and functions of your products as well as the experience that other clients have had with it.
Some of the best selling advice is perhaps the oldest:
Demonstrate understanding with your customers.

Nurture leads and work with the fact that you need to build your sales cycle around multiple stakeholders.

Cater your marketing messages to anticipate the needs of decision makers at every stage.

Sell solutions, not just products.

Use small gestures – like offering a free demo of your product – to help display quality.
Sales teams that understand their customer base and know when to apply pressure will win more customers than pushy cold calling or annoying LinkedIn campaigns. So long as the relationship stays in focus, you'll see better results for your B2b sales.
#4: Make Your Website Work For You
You should have a website that provides customers with an optimal B2B sales experience. It's one of the best sales enablement tools in your arsenal, and if you're not already using it effectively – you're behind.
As we already discussed, business customers are searching online for information to inform their buying decision. Your website is how you share that info with potential buyers.
But the sales strategy isn't just to put out content – you can also turn your website into a platform that empowers your buyer to be their own sales rep.
When a potential buyer enters our site you want to provide them with an optimal user experience, easy navigation, and the functionalities needed for them to browse your products for potential solutions. Once they find the right path forward, they should then be able to place orders with ease.
Check out some of our resources for tips on building a better B2B sales website for more insights.
#5: Keep Sales and Marketing Teams Talking
Friendly rivalry? No such thing.
There's a storied history of sales reps clashing with their company's marketing team, and sometimes for good reason. It's not unheard of for either side to make assurances, claims, or promises than land their compatriots in hot water. It's a surefire way to quickly drive off potential clients.
It need not be this way though. When marketing and sales teams work hand in hand, good things happen.
What kinds of elements help increase collaboration between sales and marketing teams?
Single-platform tech to increase transparency on all leads

Clear delineation of MQLs and SQLs

Sales strategies based on acquisition channels

Universal shared trainings for the marketing team and sales reps

Attribution that helps you see where new business is coming from

Sales agenda that aligns with real-life marketing KPIs
To be clear – the reality of this picture is complicated and requires effective communication, diligent tracking, and a sophisticated picture of your sales funnel and/or buyer's journey.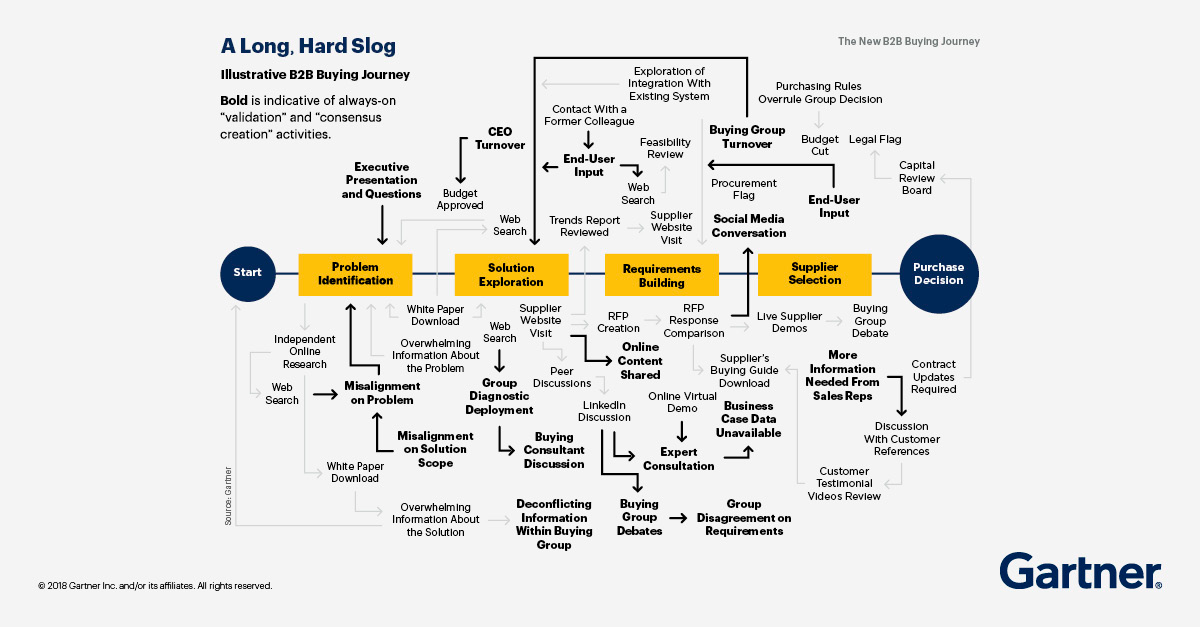 The last thing you want is sales pitches that fall short or over-extend on your marketing strategy. You'll find that this strategy will require a hard look at your internal culture, communication methods, and more.
#6: Be A Loyal Seller
Lastly, just like you want your customers to be loyal to you, it is important that you provide the same loyalty in return.
Build relationships based on consistency and loyalty by ensuring that you do not disappoint your clients.
It's simple, but it's true. The best way to boost your B2B sales with existing clients is to follow through on your word.
If an order is confirmed, make sure that order is received in the way that it was requested.
Providing your clients with inconsistent service due to disorganization or anything else is just not acceptable – and will not lead to a lasting relationship between yourself and the client.
Conclusion
With the right sales strategies, an effective buying journey, and a strategy that focuses on aligning sales with long-term customer satisfaction, B2B ecommerce can be more effective than ever.
It doesn't matter if you're manufacturing company selling parts, or a firm selling high-end professional services, potential customers can find you online – if you're positioned for it.
Hopefully the strategies we've shared in this post help you find new clients and close those business deals. We'd love to hear your success stories – or whether you've got advice we can add.
Whatever your goal – get in touch with us!