Strategy isn't a single action.
When making a business decision, you probably weigh a number of options against each other. You look at costs, try to understand your market, adjust your position, and so on.
The action you take is a tactic. The mindset you have towards the success or failure of all your tactics in the long term is what makes up your strategy.
Here's what no one wants to tell you:
You're not going to get a long-term, high-value business strategy from a blog post.
What you can get is solid advice on how to develop a strategy that works for your business. That's what this post aims to provide.
This post is directed toward B2B sellers who want advice on how to transition to ecommerce selling. Hopefully it provides challenging, relevant ideas that help you to think differently about current economic forces and how you can adapt to them.
Maybe, just maybe, you'll come away with an idea on how you can build a B2B ecommerce strategy that works for you.
Tip #1: Optimize With Your Existing Customers
Keeping a loyal customer is about the relationship between your business and the buyer.
Here's a harsh truth your customers probably don't want to tell you though: The traditional sales model is becoming obsolete.
B2B selling traditionally involves sales teams, drawn-out negotiations, and multiple decision makers. All of these elements are still important – but only if they work with online sales.
According to a 2020 Gartner study, more than half of a modern B2B buyer's time when considering a purchase is spent avoiding in-person conversations: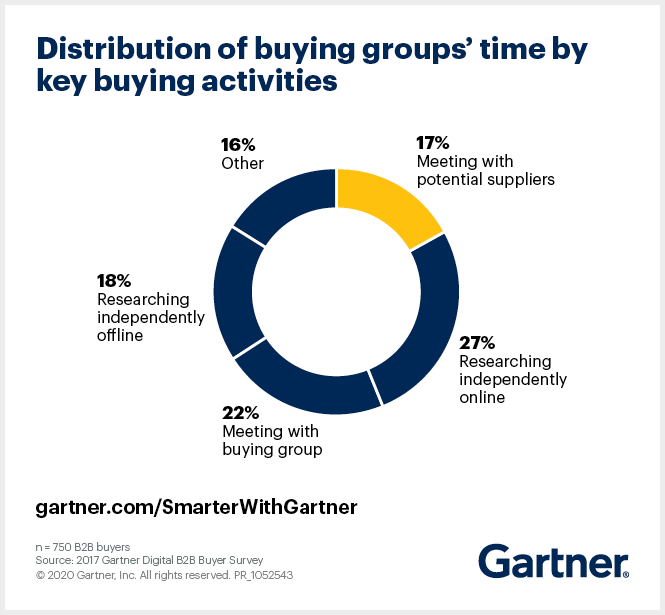 What this translates to is: you have very few opportunities to impress customers.
So – if you have loyal customers – you need to know why they're loyal and how you can keep them that way with less IRL (in real life) communication.
Potential customers want to know that they can depend on your for their business needs and that they will not be let down. Current customers already know your level of dependency.
Whatever your business model, repeat customers are a gold mine. Forrester was practically yelling this to the world back in 2008 when they shared that boosting retention by even 5% could see profits double.
The translation here is simple: consider how your B2B ecommerce plan impacts customer loyalty. Ask them about their pain points, use them to help you understand each unique customer segment, and build a portfolio of personas that gives you 100% clarity on your target audience.
Focus on clients you're already making happy. Build a system that works for their needs, then expand your capabilities to sell to other businesses.
Your sales team will have less phone calls, but they (plus any new and existing customers) will probably still be thanking you.
Oh, and don't leave your happy customers behind once you're successful.
Tip #2: Create Relatable Content
There's a lot of boring marketing collateral on the internet, so anything that stands out is the sign of an effective digital marketing strategy.
Any good sales team will tell you that B2B ecommerce is all about giving people what they want – before they know they want it.
If that sounds nebulous and clairvoyant, welcome to digital marketing!
It's actually not too difficult to create helpful, enjoyable content once you break down the core aspects of a buying process.
You need to find a way for your content marketing to attract new eyeballs.
You need to be engaging enough to convince readers to trust you.
You need to be compelling enough to build trust and prime the reader for a sale.
All the better if you can share it on your social platforms.
Let's get a bit meta.
This blog post has an "ulterior motive" – if you want to call it that. Web Solutions NYC builds ecommerce websites for businesses, and we'd love for all of our readers to trust us enough to revamp or create their online store.
How do we accomplish this? We share our experience with you, the reader.
Here's the problem: there's no guarantee this post will be read by decision makers.
Even if our content is picked up by a search engine and generates organic traffic, its ultimate success depends on whether it's optimized for all of our different audience segments – and empowers them to influence decisions within their organization.
How do we accomplish all of this? We provide relatable, entertaining, educational content. Period.
Meta over.
Relatable content has 4 features:
Accessible (skimmable)
Shareable (skimmable)
Well-written (skimmable)
Social weight
Doesn't matter if we're talking about email marketing, sharing on social media platforms, or a landing page, 75% of your content's effectiveness will be determined by how quickly someone can skim through and get the jist. Search engines might be the ones doing the most vetting of your content.
While we're talking content, keep another thing in mind: If your paid ads don't line up with the content on your landing page, you're driving customers away.
B2B ecommerce marketing strategies are not rocket science. It's based on human connection with specific customer segments and good taste in stock photos.
Tip #3: Make Your Buying Process Easier
Let's be really clear about customer expectations: you probably aren't meeting them.
If that's scary, don't let it get to you. Your competitors are in the same boat.
There's a lot of buzzwords about B2B ecommerce and online shopping right now. You've probably seen advice like: "build a seamless buying experience that improves conversion rates, attracts potential buyers, streamlines sales channels, and revolutionizes online shopping."
All of that is true – but it's mostly keyword stuffing for SEO.
The translation is much simpler: customers want easy sales processes.
The Covid-19 Pandemic gets blamed for changing the way people B2B ecommerce works, but the reality is that change was already barreling towards you. Your customer base is getting younger.
Younger generations are bringing their habits into the workplace, including how they make decisions. They want easy purchases, they want you earn their loyalty, and they want to see all of your product offerings before they buy. Social selling is more important than ever too, at least according to more than half of Millennial and Gen Z buyers.
Lest you think we're making this up, here's what McKinsey shared on the effectiveness of businesses that adapt to these shifts in customer behavior: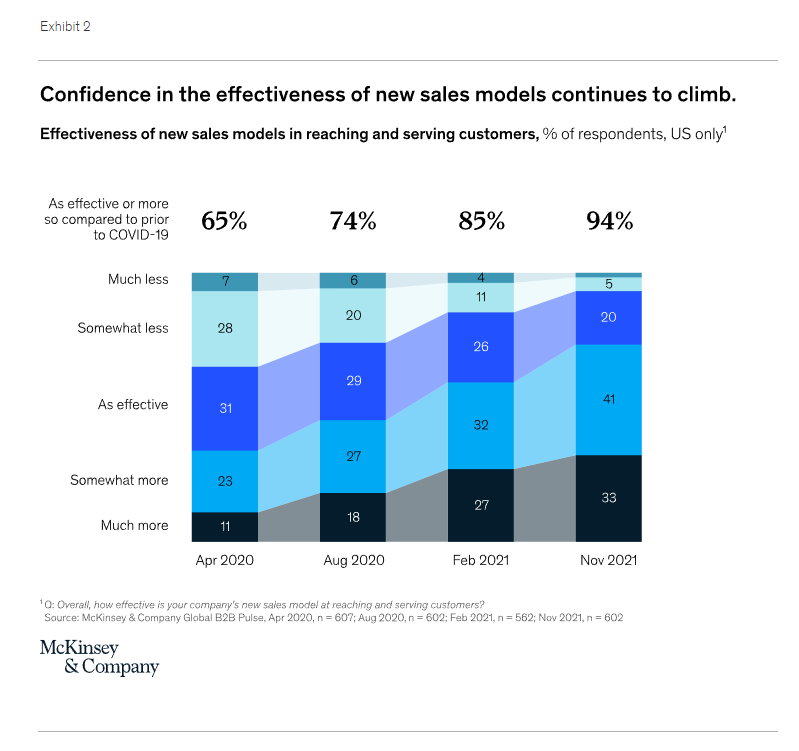 If you are a B2B ecommerce store that's allowing customers to browse product pages, avoid pushy sales reps, participate in a slow customer journey, you are ahead of the competition.
If you're looking for practical tactics, here are some of the ways you can really spruce up your B2B ecommerce and make buying simple:
Quick order possibility
Customer structure and user roles
Customer service (live chat function is great!)
Different payment methods
Different order processes
Tracking on back orders
Internal tools for repurchasing
Self service sales
Opt-in ability to contact a sales team
Tools for resellers
Email marketing for unique customer segments
Content marketing that solves problems
Helpful FAQs that actually answer questions
Product pages with tangible information and accurate inventory counts
A mobile version of your ecommerce store
These different aspects of ecommerce exist because B2B buyer's needs and processes differ from a B2C client. The customer experience is everything – so spend some time on this one.
Tip #4: Make Your Supply Chain Part of the Narrative
Targeted marketing campaigns are good. How well does your customer really know you though?
Many B2B ecommerce businesses are failing at the "lower end" of the sales funnel – where a client is impatiently checking to see where their order is in your shipping process. This goes back to customer expectations. Today's consumers can order any old item from a user friendly website, get a tracking number in less than a few hours, and unpack that item in less than 48 hours. All of this made possible through accurate tracking, transparency throughout the supply chain, and of course – a lot of well-written code.
Modern digital solutions have given us countless advantages that past generations never dreamed of. To name a few – self service options, a personalized buying experience, and an unparalleled transparency into the buying process.
Thing is, customers are always happy with more.
And you can give them more with accurate tracking, transparency on low stock or backorders, clear expectations on custom orders, and clear information on your supply chain. This includes:
Where you source materials
Who you do business with
Why you utilize a certain business model
What TATs your customers can expect
Having your business data in a place where it can be easily accessed and utilized is an essential part of sharing this info and preventing confused or disappointed customers. This includes having a system where you can keep a real time view of orders and inventory at all times.
Keeping close track of orders coming in and out as well as how much physical inventory is available will ensure that the products your customers need will be shipped to them in the appropriate amount of time.
Organization is key when making any kind of decision with B2B ecommerce.
You must keep your data structured and organized. You need to share it at every stage of the journey if you want to build customer loyalty.
Easy to say, hard to do – but the right ecommerce platform can help you do it effectively.
Tip #5: Listen. Challenge. Learn.
Every business wants more customers, more sales, brand loyalty, and to exceed their business goals.
The ones that focus on keeping their customers' attention, improving customer experience, and boosting customer satisfaction are the ones who actually achieve all of that.
With the technology available today, your buyers are leaving an enormous digital footprint full of data. This data may show how long they stayed on a page, what they clicked on, what they returned to, and what caused them to exit your site.
To not utilize this data to the fullest extent would be failing to tap into one of your greatest resources. This goes for the general challenges of B2B ecommerce as well as challenges specific to your business.
Do your research:
Ask your customers and employees questions and see what aspects of your business need improvement.
Go through your current workflow and try to rid yourself of overly complicated or unnecessary processes which could waste time and efforts.
Go through the current features of your website and see which are most important to keep or implement.
Pay close attention to trends based on what's causing buyers to convert sales.
Once you have this knowledge, create a plan. You want to have everything laid out as simply and efficiently as you can when preparing for a big change in the way business is done. Make sure to include features you need to get your business online, the features you'd like to have included by launch, and the features you hope to implement some day down the road.
This road map will help you to keep a structured plan towards growth without things getting messy. As your business continues to thrive, you can then go back to the additional features you'd like added and implement them.
This process will be trial and error.
Start off slow and steady with a smaller number of quality products, and then study the results. This will help you to see patterns and take note of where you are succeeding and where you are failing.
There is so much that goes into your consumer's online experience, and taking note of what works will bring you closer to success.
Conclusion
B2B ecommerce may seem extremely difficult and complex, but with the right knowledge base, quality products, and a well equipped ecommerce platform, nothing can keep you from winning more business customers.
All things considered, making the move to B2B must be done in the proper way in order to achieve success.
If you've got a strategy that helps you learn from failure and capitalize on success, your potential customers will notice. Once things start moving, you'll see new customers can find you and buy from you – all because you allow them to do their shopping online.